NEW CITROEN C4 CACTUS – 2018 EDITION
Dramatically Unique For Your Kind Of Different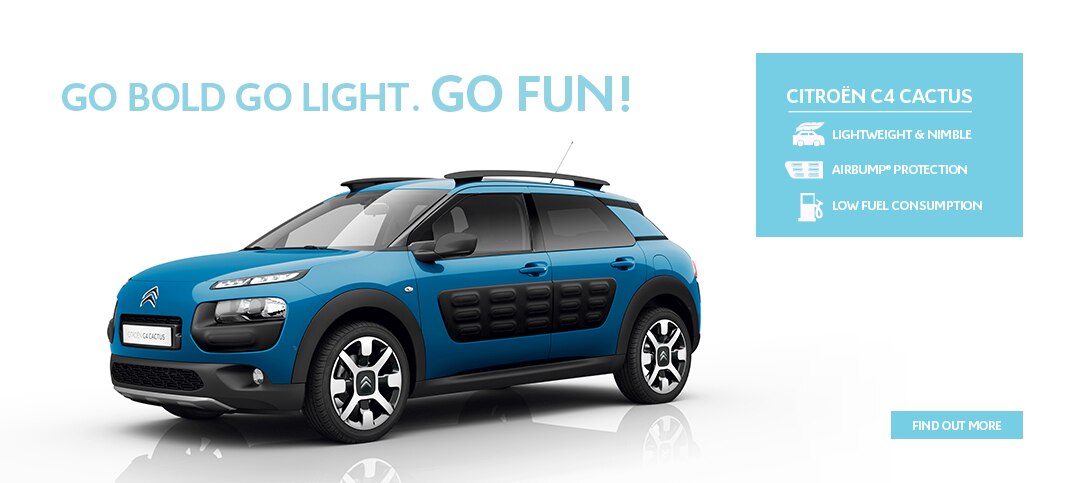 TRIM LEVELS
TOPGEAR

BBC TopGear Magazine named the All-New Citroën C4 Cactus the 'Hatchback of the Year' in 2014 for its unique blend of simple form and sophisticated but thoughtful function.

RED DOT

The All-New Citroën C4 Cactus impressed with its surprising, unusual solutions and an ingenius design concept at the Red Dot Award 2014

INTERNATIONAL AUTOMOBILE FESTIVAL

Bagging the 'Most Beautiful Interior' award at the 30th International Automobile Festival in Paris, the All-New Citroën C4 Cactus topped the rest with its stylish and functional design that incorporated intuitive touches for enhanced driving comfort.

NEW YORK INTERNATIONAL AUTO SHOW

The recent New York International Auto Show declared the All-New Citroën C4 Cactus as the '2015 World Car Design of the Year'. With Its distinct exterior, punctuated by the unique Airbump®, and unconventional approach to minimalist interior, the C4 Cactus triumphed in harmonising beauty and functionally.

ST-TORQUE AWARDS

Named the Best Category A Hatchback in the 2015 ST-Torque Awards, the C4 Cactus impressed with its stylish design inside and out, unique character and above-average efficiency.
STRONG POINTS
Airbump®
The All-New Citroën C4 Cactus features a bold eye-catching design with quirky Airbump® panels. Aside from turning heads, these sports resilient air-filled capsules are also dedicated to help you shrug off unexpected repair costs, protecting your car from everyday bumps especially when maneuvering tight corners and bends.