March 28, 2016
A DUAL ANNIVERSARY FOR CITROËN: ANDRÉ ♥ COLETTE!

To celebrate 65 years of the 2CV compact van and 20 years of the Berlingo, Citroën is giving the two best-selling models a completely new look, with special styling for Colette! The famous store at 213 rue Saint Honoré, Paris, is adopting a mini fleet consisting of one vehicle from each model to celebrate the occasion, specially customised with the compact van's timeless design and the store's emblematic colour: #2CVcolette. Driven by their shared values of innovation and difference, the two French brands are coming together to declare: andré ♥ colette!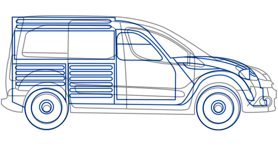 To celebrate 65 years of the 2CV compact van and 20 years of the Berlingo, Citroën is bringing the two vehicles together in a mini fleet customised for Colette, the famous store at 213 rue Saint Honoré, Paris. This collaboration between the two French brands, combining their flair for innovation and difference, has culminated in unique vehicles:
The timeless styling of the compact van, with the corrugated plate effect for the Berlingo. The electric version of the transformed vehicle was chosen to whizz around Paris carrying out the concept store's deliveries throughout the campaign.
Blue, the store's signature colour, was adopted by the Citroën logo, which takes on a special retro look.
Colette is also displaying a special vintage logo to mark the occasion. Visual artist Steve Pitocco created the logo using a hand-painted technique in the tradition of the first LCVs.
The reinterpretation of the two vehicles was the brainchild of Citroën's design consultancy, whose director Alexandre Malval oversaw every detail of the 2CV's "old to new" and the Berlingo's "new to old" transformations.
The compact van pioneer and European market leader are coming together in a mini fleet available until late April:
The electric Berlingo, delivering for Colette.
The 2CV compact van, positioned in front of the store at 213 rue Saint Honoré, Paris.
On the two brands' social networks, with shared hashtag: #2CVcolette.
This dual anniversary was coordinated with the help of L'Ecurie agency.
To see a video of the vehicles' transformation: https://youtu.be/oPFZinDT-24
The Citroën brand
Citroën is an international automotive brand with a core full-line range. A purveyor of optimism since 1919, the Brand stands apart through its creativity and boldness – values that it places at the service of its customers by devising fresh solutions to the challenges arising in each new era. Citroën today is reinventing itself with models placing a premium on design, comfort and technological intelligence and with a seamless and transparent customer experience, as illustrated by its online opinion site, Citroën Advisor. With 10,000 customer contact points and presence in over 90 countries, Citroën sold nearly 1.2 million vehicles in 2015. The Brand has also amassed eight Constructors' titles in the WRC and won its second consecutive Constructors' title in the FIA WTCC in 2015.
PRESS CONTACTS
Nathalie Roussel – Tel: +33 (0)1 58 79 78 15 – +33 (0)6 87 77 41 82 –  nathalie.roussel@citroen.com
Paul Mahouin – Tel: +3 (0)1 58 79 81 58 – +33 (0)7 61 52 63 16 – paul.mahouin@citroen.com
Find all your Citroën press contacts at http://int-media.citroen.com/fr/contacts-list