Citroen Game of Scroll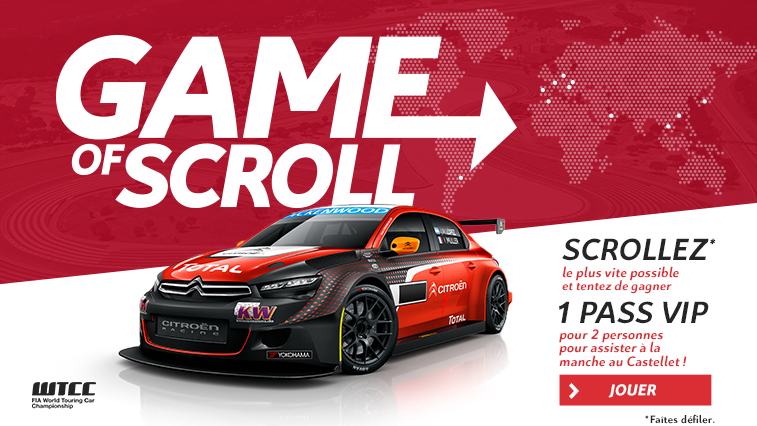 Citroën Game of Scroll
CITROËN LAUNCHES AN ALL-NEW ADVERGAME FOR THE NEW WTCC SEASON: GAME OF SCROLL!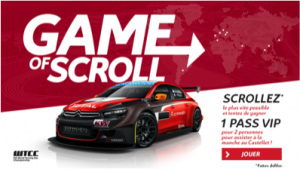 The FIA WTCC World Championship kicks off in France on 1 to 3 April. A few weeks ahead of the big date, Citroën is revealing an advergame, Game of Scroll (www.gameofscroll.citroen.fr), a car race in which players scroll their cars along as quickly as possible to set the fastest time. The winners will receive VIP passes to the French leg of the WTCC competition.
The game is on!
For the launch of the new WTCC season, Citroën Racing is unveiling the Game of Scroll advergame, a car race in which contestants scroll as fast as possible to keep their cars zipping ahead and set the best race time.
The game, designed by the Les Gaulois agency, is accessible on mobiles, tablets and PCs. The top players stand to win one of ten VIP passes for two people to the French leg of the WTCC at the Le Castellet track on 3 April 2016.
Players are encouraged to share their score and challenge their friends… #GameofScroll
For the international legs of the competition, Game of Scroll will be rolled out in line with the 2016 WTCC calendar, notably in Morocco, Germany and Argentina.
To play, go to: www.gameofscroll.citroen.fr
Citroën has been successfully committed to the FIA WTCC (World Touring Car Championship) since 2014, winning the World Constructor's Title in its very first year of competition. It did the same in 2015, scoring victories in 21 out of the 24 races and setting a new points record in a season.
For 2016, the new colours of the Citroën Total team were recently revealed at the Geneva Motor Show with José María López and Yvan Muller. At the wheel of their C-Elysée WTCC, the two drivers have already confirmed the team's leadership status, posting the six best times in the seven sessions in the two days of collective test drives organised at the Vallelunga track in Italy on 3 and 4 March.
The Citroën brand
Citroën is an international automotive brand with a core full-line range. A purveyor of optimism since 1919, the Brand stands apart through its creativity and boldness – values that it places at the service of its customers by devising fresh solutions to the challenges arising in each new era. Citroën today is reinventing itself with models placing a premium on design, comfort and technological intelligence and with a seamless and transparent customer experience, as illustrated by its online opinion site, Citroën Advisor. With 10,000 customer contact points and presence in over 90 countries, Citroën sold nearly 1.2 million vehicles in 2015. The Brand has also amassed eight Constructors' titles in the WRC and won its second consecutive Constructors' title in the FIA WTCC in 2015.
PRESS CONTACTS
Nathalie Roussel – Tel: +33 (0)1 58 79 78 15 – +336 87 77 41 82 – nathalie.roussel@citroen.com
Paul Mahouin – Tel: +33 (0)1 58 79 81 58 – +337 61 52 63 16 – paul.mahouin@citroen.com
Find all your Citroën press contacts at http://int-media.citroen.com/fr/contacts-list