January 12, 2017
NEW CITROЁN C4 PICASSO RANGE: PRACTICALITY & COMFORT REDEFINED.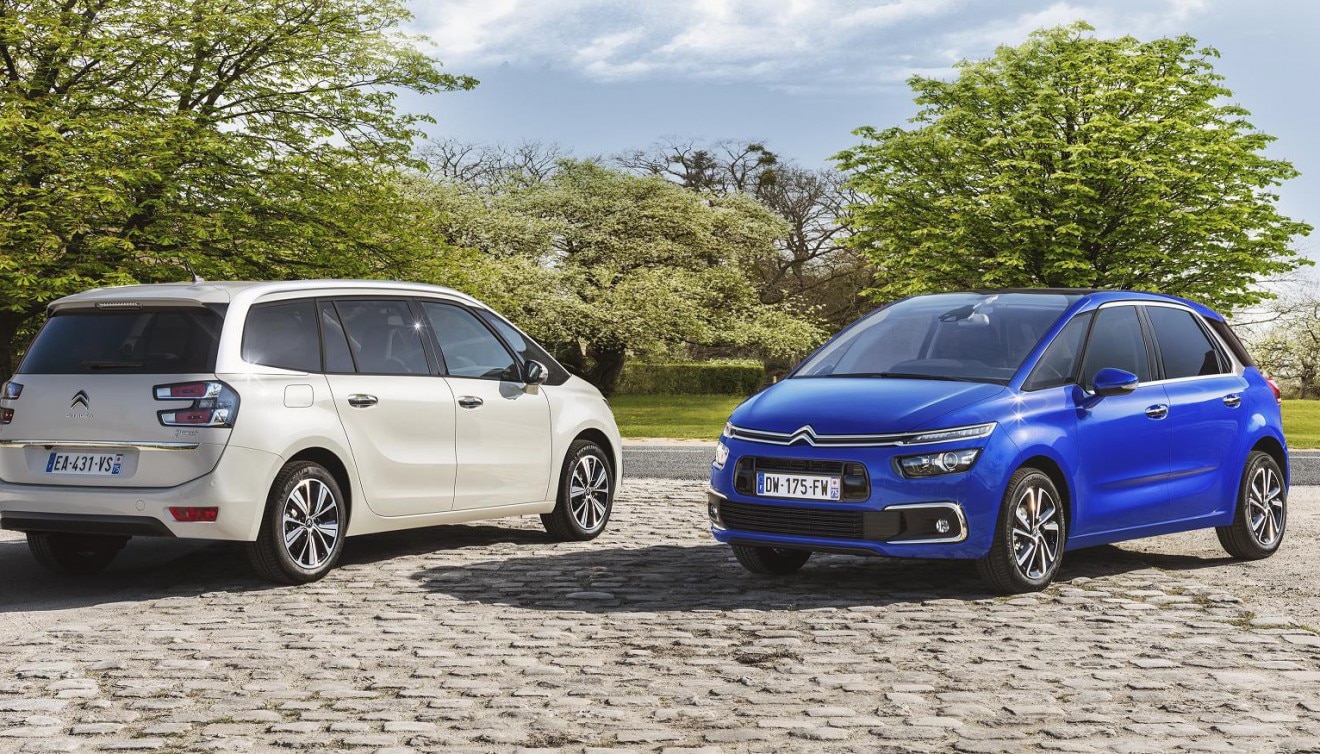 Cycle & Carriage France Pte Ltd unveiled the New Citroën C4 Picasso Range at The Singapore Motorshow – 12 January 2017.
The  second-generation  Citroën  C4  Picasso  range  launched  in  2013  has  proved  to  be  immensely successful, appealing to over 300,000 customers with their remarkable design and comfort. The New Grand C4 Picasso enters a new era, boasting even more dynamism and distinction, with a new front end, new intuitive and useful technologies such as the Hands-Free Tailgate, a new connectivity offering with Apple CarPlay™ and MirrorLink®, and a global experience in well-being of body with the Citroën Advanced Comfort® programme.
Designed with the finest of the Citroën know-how and creativity, the New Grand C4 Picasso is a modern and innovative MPV. It stands apart through its strong and expressive styling with dynamic lines and a unique front and rear light signature. The design combines a compact exterior with class-leading interior spaciousness and boot volume. The cabin offers a pure and light-filled ambience along with materials that enhance the quality and well-being of all passengers. The all-round comfort is further underpinned by the well-balanced road performance of the Grand C4 Picasso, which, thanks to the development of the EMP2 platform, achieves a perfect blend of irreproachable road holding and classic Citroën comfort.
01 UNIQUE BODY DESIGN  AND DYNAMIC AND PRESTIGIOUS STYLING
The New Grand C4 Picasso brings you the essence of CITROЁN design and technological innovation. with even more personality and dynamism, the New Grand C4 Picasso features a new front end with C- shaped chrome detailing, 3D LED Tail Lamps, new 17-inch alloy wheels (applicable on Petrol variant), a new "Silver" roof arch and two new body colours.
In terms of design, the New Grand C4 Picasso features:
New Front End. The New Grand C4 Picasso keeps the three-tiered light signature, which characterizes today's Citroën. The brand emblem extends to the extremities of the body to encircle the daytime running lights in chrome, on the lower part, a chrome strip recesses slightly before it reaches the daytime running lights for extra dynamism. At the bottom, the large air intake grille has integrated fog lamps and is underlined by chrome-finish Cs that further broaden our perception of the vehicle and position it on the road. This design approach brings new clarity to the front end, lending it more value and breadth.
New Rear Lights. The New Grand C4 Picasso comes standard with distinctive 3D LED Tail Lamps.
New HID Lamps. Only available on the petrol variant, HID lamps offer improved visibility at night.
New Rear Chevrons. Denoting Citroën's new positioning and lending more modernity to the rear, the rear Citroën emblem is now gloss black with chrome surrounds.
New Silver Roof Arch. A lateral signature unique to the Grand C4 Picasso's body that underscores the elegance of the body design, the roof arches are also practical for families, especially when they need to mount their cargo or sports equipment for family outings and out-of-town road trips.
New  Body  Colours.  The New Grand C4 Picasso is now available with a new palette of colours comprising of Lazuli Blue – full of energy and vitality, and Sable – for an extra dose of elegance.
02 A BENCHMARK FOR COMFORT
Inside the New Grand C4 Picasso you'll find a versatile, welcoming space that's ready to accommodate everyone and everything.
In terms of comfort, the New Grand C4 Picasso features:
Extended  Comfort.  The  New  Grand  C4  Picasso  comes  standard  with  wraparound  driver  and passenger relax headrests and a lumbar massage function for extra comfort on long drives. The front passenger can also experience the new lounge function, a fully reclining seat with adjustable leg rests.
Hands-free Tailgate. In addition to the electric tailgate, the New Citroën C4 Picasso innovates with the
Hands-Free Tailgate function that allows users to easily open the tailgate when their hands are full,
thanks to a sensor located at the rear bumper. Motorists simply move their foot to open or close the tailgate.
Soft Materials. The New Grand C4 Picasso is equipped with a specially treated dashboard and soft- touch door panels, together with an extended line-up of fabric and leather options.
03 A CONNECTED DRIVE
Customers today expect more serene interior ambiences, practicality in use and a seamless and intuitive approach to new technologies. As a real space for living, the New Grand C4 Picasso is a place for charging your batteries and enjoying good times with family and friends.
Apple CarPlay™ and MirrorLink® Connectivity. The New Grand C4 Picasso is equipped with an improved and more responsive 7-inch Touch Drive interface, as well as Apple CarPlay™ (iOS) and MirrorLink® (Android) connectivity, allowing easier access to navigation, music and phone apps. From webradio to latest-generation navigation systems, the applications are immediately and readily accessible, simply by connecting the telephone using a USB cable. When driving, only applications that meet strict specifications applying to the risk of distracting the driver can operate.
04 PERFORMANCE
The New Grand C4 Picasso comes with a choice of diesel or petrol engines. Both are strong, flexible performers and Euro 6 compliant, producing benchmark CO₂ emissions and fuel consumption figures without compromising on performance and long distance refinement. The turbo-diesel BlueHDi engine incorporates the SCR (Selective Catalytic Reduction) module upstream of the particulate filter to reduce NOx emissions by up to  90% and CO₂  emissions by up to 4% in comparison to Euro 5 emission standards.
Combined  with the latest-generation EAT6 6-speed automatic gearbox, The New Grand C4 Picasso delivers 40% faster gear shifts and a wider gear ratio range for quicker pickup performance.
The New Citroën C4 Picasso Range includes the 7-Seater Grand C4 Picasso (diesel and petrol variants), and also the 5-Seater C4 Picasso (diesel variant only).
05 TECHNICAL SPECIFICATIONS- GRAND C4 PICASSO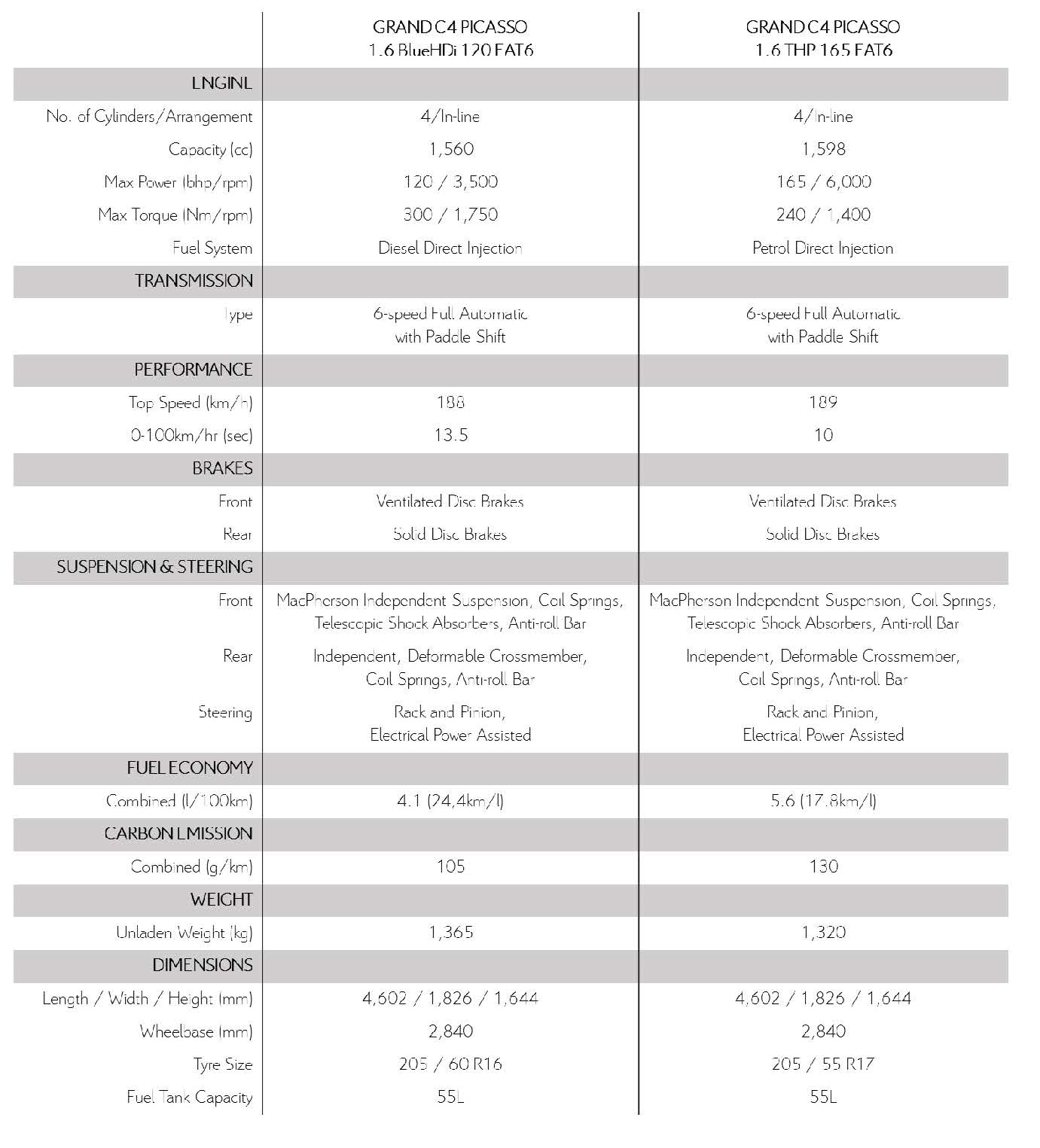 05 TECHNICAL SPECIFICATIONS- C4 PICASSO