May 11, 2016
NEW CITROËN C4 PICASSO AND GRAND C4 PICASSO: DESIGN AND COMFORT – A NEW INVITATION TO TRAVEL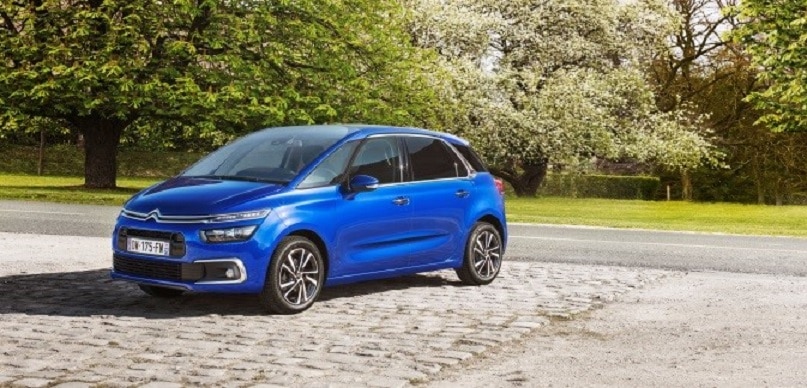 The second-generation Citroën C4 Picasso launched in 2013 has proved immensely successful, appealing to over 300,000 customers with their remarkable design and comfort. The New C4 Picasso is entering a new era in summer 2016, boasting even more dynamism and distinction, with a new front end, a two-tone roof and more customisation possibilities, including a choice of four distinct interior design schemes. And to ensure that travelling in the New C4 Picasso is always a unique experience, it features new intuitive and useful technologies such as the Hands-Free Tailgate, a new connectivity offering with CITROËN Connect Nav and a new engine, the PureTech 130 S&S EAT6. The New Citroën C4 Picasso brings motorists a global experience of well-being of body and mind just like the Citroën Advanced Comfort® programme.
Designed with the finest of the Citroën know-how and creativity, the New C4 Picasso is a modern and innovative MPV. It stands apart through its strong and expressive styling with dynamic lines and a unique light signature front and rear. The design is underscored by original proportions combining a compact exterior with class-leading interior spaciousness and boot volume. The cabin is designed in a loft spirit and offers a pure and light-filled ambience along with materials that enhance the perception of quality and well-being. That feeling is further underpinned by the well-balanced road performance of the C4 Picasso, which, thanks to the development of the EMP2 platform, achieves a perfect blend of irreproachable road holding and classic Citroën comfort for all passengers.
The Citroën C4 Picasso was available on launch with technologies for well-being including a 100% tactile driving interface and a 12-inch HD panoramic screen, together with further innovations for a relaxed and easy drive such as Vision 360, Park Assist and adaptive cruise control. The New Citroën C4 Picasso builds on those strong points and strikes an ideal balance in the world of MPVs with :
– ATTRACTIVE STYLING, comprising flowing and modern lines for even more personality and dynamism, with a new front end shared by both versions, new "3D effect" standard rear lights from entry-level trim models up, new 17-inch alloy wheels, a two-tone roof available on the C4 Picasso, a new "Silver" roof arch colour on Grand C4 Picasso, together with three new body colours ;
– WELL-BEING FOR ALL, through spaciousness, modular design and superior on-road performance, further strengthened by:
a choice of four customisable interior design schemes for creating a cabin in one's own image and adapted to the lifestyle of each one;
technologies that make life easier, with the new 3D CITROËN Connect Nav connected navigation system combined with a new 7-inch touchscreen, providing greater responsiveness and new connected services. The new system also optimises the use of the 12-inch HD screen for more flexibility and clarity. Another new technology for simplified everyday use is the Hands-Free Tailgate, whereby drivers open the boot with a simple movement of the foot ;
technologies to simplify driving and improve safety, such as Speed Limit Sign Recognition and Recommendation, Adaptive Cruise Control with a Stop Function, the Lane Departure Warning System, the Active Safety Brake, Driver Attention Alert, and the Active Blind Spot Monitoring System ;
a new engine, with the introduction of the PureTech 130 S&S EAT6, extending the broad range of Euro6 PureTech and BlueHDi engines with their impressive blend of performance and low fuel consumption.
"For us, the New Citroën C4 Picasso is a showcase of our finest know-how. In addition to its unique, modern and dynamic styling, it offers an incomparable level of comfort. With its architecture and the EMP2 platform, it brings motorists spaciousness, modularity and on-road qualities that enhance the well-being of all passengers. Today we are equipping it with a set of new useful technologies that simplify everyday life and improve safety. The New C4 Picasso has everything it takes to be a leader in the European market," says Linda Jackson, CEO of Citroën.
01 UNIQUE BODY DESIGN AND DYNAMIC AND PRESTIGIOUS STYLING
Body design: thoroughly dynamic
The New Citroën C4 Picasso is first and foremost about energetic and modern styling. It boasts a unique and dynamic body shape, immediately recognisable in the automotive landscape. And in addition to its flowing lines and bold looks, the C4 Picasso is assuming a more prestigious appearance in 2016.
In terms of design, the New C4 Picasso and Grand C4 Picasso feature:
a new front end shared by both models, at once more dynamic and high-end. It conveys a sense of power and robustness through a set of components that enhance the impression of width. The new models keep the three-tiered light signature, which characterizes today's Citroën. Based on the Grand C4 Picasso theme, the Brand emblem extends to the extremities of the body to encircle the daytime running lights in a chrome surround. The design approach brings new clarity to the front end, lending it more value and breadth. On the lower part, a chrome strip recesses slightly before it reaches the daytime running lights for extra dynamism. The slim-line lamps also gain a new mask extending them out towards the exterior. The grille is separated into two parts by the body-coloured bumper. It has been reduced in the centre and now sports a glossy black registration plate mount and second air vent. At the bottom, the large air intake grille has integrated fog lamps and is underlined by chrome-finish C that further broaden our perception of the vehicle and position it on the road;
new rear lights standard, with a spectacular light signature featuring deep and futuristic 3D effect light guides. The high-end versions retain their current 3D LED signature;
new rear chevrons in gloss black with chrome surrounds, denoting Citroën's new positioning and lending more modernity to the rear;
a black two-tone roof underlining the car's personality and vitality (on the C4 Picasso only). Available as an option, the entire colour range, the new customisation possibility enhancing the body styling and comes with gloss black wing mirrors;
a new roof arch colour, Silver, a lateral signature unique to the Grand C4 Picasso body that underscores the elegance of the body design and the up selling of;
new 17-inch, five-spoke diamond-finish alloy wheels (on the C4 Picasso) and recoloured diamond finish on the current wheels (on the C4 Picasso and Grand C4 Picasso).
To highlight its strengths, the New Citroën C4 Picasso is also available with a new palette of colours comprising Lazuli Blue, full of energy and vitality, and Sand and Steel Grey, for an extra dose of elegance. These hues round out the existing colour range including Banquise White, Rubi Red, Shark Grey, Onyx Black and Moka Brown.
Interior design: new design schemes
To bring each customer an ambience corresponding to their lifestyle, the New Citroën C4 Picasso is available with four fully distinct interior design schemes to appeal a broad clientele.
The 2016 C4 Picasso is standard fit with a new design scheme enabling motorists to benefit from all the model's qualities and cabin space, combined with a Grey harmony on the dashboard and doors.
The following design schemes are available as options:
"Wild Blue " focused on modularity for an active and sporty lifestyle. This design scheme is intended for dynamic young customers attentive to onboard space and relaxation, featuring a flat-folding passenger seat and massaging front seats, along with Levanzo Blue cloth an chrome-plated dashboard air vents and door sills. It is combined with a Pearl Grey harmony;
"Dune Beige" with an emphasis on everyday comfort and light. This design scheme targets customers who place a premium on travelling well-being and comfort and who also seek consummate relaxation, which is fully delivered by the Lounge Pack, including a relax headrest and semi-electric relax passenger seat with extra comfort. The Dune Beige design scheme comprises Yatago Grey cloth, special protective mats and an ambient fragrance dispenser. It is also available with two-tone Nappa Leather and is combined with Beige Meditation harmony;
"Hype Grey" for a "business class" experience. This design scheme was developed for distinctive customers with an eye for detail, with row 2 sun blinds and rear-seat reading lights, and a taste for elegance, with a Pearl Grey dashboard and Finn Black / Cuir Grey cloth
02 A BENCHMARK ON COMFORT
With the New C4 Picasso MPV, Citroën is confirming its legitimacy and expertise in the realm of comfort. The new model's agility and extensive range of equipment offer motorists a singular driving experience and a true invitation to travel.
The New Citroën C4 Picasso features:
unrivalled suspension comfort striking an ideal balance between driving pleasure and road holding through vertically fit dampers and an axle attachment located below the wheel centre;
cocoon-like acoustic and vibration comfort, through electric power steering for optimised road feedback filtering in the steering column, controlled rolling noise with filtering via the front subframe, benchmark suspension in terms of road feel, and a new dual-material acoustic shim in the rear axle;
intelligent traction control for improved traction on low-grip surfaces.
The New Citroën C4 Picasso also boasts :
a practical and capacious interior : designed with a compact exterior (L: 4.44m / W: 1.83m / H: 1.61m), the New Citroën C4 Picasso five-seater combines benchmark liveability, spaciousness and modular design. The Citroën Grand C4 Picasso offers a lengthened silhouette and keeps the balance between fluidity of lines and space on board (L: 4,60m/ W: 1,83m/ H: 1,63m). In row 1, the flat-folding passenger seat increases load possibilities (over 2.5 m). In row 2, the three independent seats are all the same width, can be folded down flat, incline for more comfort and slide for extra flexibility. Knee room, at 159 mm, is among the best in class. Row 3 in the Grand C4 Picasso comprises two removable seats with dedicated air blowers on upper trim models.
impressive boot volume : another strong point of the New C4 Picasso is its boot. The design of the enveloping tailgate suggests volume and robustness and offers excellent accessibility to a large loading area measuring 537 litres and up to 630 litres with row 2 in its forward-most position (645 litres and 704 litres for the New Grand C4 Picasso). In addition to a motorised tailgate, the New Citroën C4 Picasso innovates with the Hands-Free Tailgate function that allows users to easily open the tailgate when their hands are full, thanks to a sensor located under the rear bumper. Motorists simply move their foot to open or close the tailgate.
maximum brightness : in addition to the standard panoramic windscreen, the panoramic glass roof on the Citroën C4 Picasso offers all-new sensations and brings all passengers exceptional visibility. The best-in-class overall glazed area of C4 Picasso ( 5.30 m2 ) lets light flood into the cabin and underscores the outstanding sense of space and openness to the outside world;
restful and customisable ambient lighting : the New Citroën C4 Picasso is available with lighting for the door opening controls and foot wells, LED lighting for the ceiling storage area, all customisable via the choice of ambience;
numerous and ingenious storage compartments : the new Citroën C4 Picasso continues to feature numerous of storage areas ideally distributed throughout the cabin, including a lighted compartment in the centre of the dashboard equipped with jack, USB and 220 V sockets and of a removable console between the driver and passenger seats on versions equipped with automatic gearboxes.
comfortable seats : all C4 Picasso passengers travel first-class style. The new model is available with optional heating driver and passenger seats or the Lounge Pack, including wraparound driver and passenger relax headrests, a semi-electric relax passenger seat with extended comfort features, and massaging driver and passenger seats;
soft and warm materials: the New Citroën C4 Picasso is equipped with a slush-moulded and specially treated dashboard and soft-touch door panels, together with an extended line-up of top-quality cloth and leather.
Together, these features make the New C4 Picasso the spearhead of the Citroën Advanced Comfort® programme.
Citroën Advanced Comfort®
With the 2016 Citroën C4 Picasso, Citroën is once again showing its inimitable ability to design comfortable cars in which passengers simply feel good. Meticulous attention has been paid to physical and mental well-being, as seen in the spacious cabin, the comfort of the seats, and the interior design schemes.
Citroën has always been on the leading edge of automotive comfort, from its creation in 1919 through to the brand's present-day claim "Be different, feel good". This concept of comfort is something that sets Citroën apart. It is of utmost importance in each one of its developments and backed by considerable investments. Today, Citroën is making this hallmark more visible through the Citroën Advanced Comfort® programme aimed at enhancing the comfort of each one of its models through the development of special components representing Citroën's take on comfort.
The Citroën Advanced Comfort® programme is at the forefront of each design phase of Citroën's vehicles. It informs both the stylistic and technological creation processes, ensuring a true Brand signature in terms of comfort. With the new programme, Citroën is confirming its legitimacy and know-how by developing an engineering approach to well-being in step with changes in customer expectations.
The Citroën Advanced Comfort® programme is based on four key pillars:
Filter out all externalities so that Citroën passengers feel like they are in a cocoon, with solutions in suspension, seating and acoustic comfort;
Make car travel easier, with a generous and practical interior, ingenious storage spaces and accessible controls;
Make vehicle use more seamless through intuitive technology and useful driving aids, and by ensuring continuity between the customer's digital world and car;
Lighten the mental load, by offering passengers more peace of mind, displaying only truly useful information, and by working on light and materials.
03 TECHNOLOGY-RICH
Customers today expect more serene interior ambiences, practicality in use and a seamless and intuitive approach to new technologies. As a real space for living, the New Citroën C4 Picasso is a place for charging your batteries and enjoying good times with family and friends.
Intelligent driving aids
More attentive than ever to the well-being and safety of passengers, the New C4 Picasso brings them new equipment in addition to the everyday-useful functions available since launch, including keyless entry and start, hill-start assist, Xenon directional headlamps, automatic headlamp dipping, low tyre-pressure monitoring, the Vision 360 system, park assist and a reversing camera.
For an even safer and relaxed drive, new intelligent driving aids are making their debut on the New C4 Picasso.
COFFEE BREAK ALERT: Fit as standard on the New C4 Picasso, this system lets drivers know when they need to take a break via a sound alert and a "cup of coffee" display on the dashboard.
SPEED LIMIT SIGN RECOGNITION AND RECOMMENDATION: This system recognises speed limit signs and conveys the information to drivers via the instrument cluster. The speed limit in question can be recorded as a setting for the cruise control/speed limiter system.
DRIVER ATTENTION ALERT: This system generates an alert when it detects an initial swaying movement with a "Stay vigilant" visual message together with a sound alert.
ACTIVE LANE DEPARTURE WARNING SYSTEM: This system helps to combat driver drowsiness or a simple moment of inattention at the wheel at speeds of over 65 km/h. Using a camera located on the upper windscreen identifying lane markings, the system corrects the trajectory of the vehicle and alerts drivers if it detects the risk of an involuntary lane crossing without the activation of the indicator. If the driver wants to pursue his or her trajectory, they can block the correction by maintaining a firm hold on the steering wheel.
ACTIVE BLIND SPOT MONITORING SYSTEM: This system displays a visual warning on the door mirrors if it detects a car in the driver's (left or right) blind spot. If the Lane Departure Warning System is activated, and if the driver nevertheless commits to turning in the intended direction by indicating, a load is applied to the wheel to dissuade the driver from doing so and thereby avoid a collision.
ADAPTIVE CRUISE CONTROL WITH STOP FUNCTION (on BlueHDi 150 S&S EAT6 only): Using a radar sensor, this system detects the car ahead and automatically maintains a safety distance pre-set by the driver until the vehicle comes to a halt by working on the brakes and accelerator. It allows the setting of the speeds from 30 km/h through to 180 km/h, the control of the speed and the distance between vehicles, and the limitation of acceleration when cornering.
ACTIVE SAFETY BRAKE (available from November 2016): This is an emergency braking system that serves to avoid low-speed collisions. A camera in the upper part of the windscreen detects obstacles, such as vehicles driving in the same direction or at a halt. It works from 5 km/h through to top speed. The driver is warned wherever an impact situation is detected; if he or she fails to react, the system brakes the vehicle automatically.
COLLISION RISK ALERT: From speeds of 30 km/h, this system warns drivers that their car is at risk of colliding with the vehicle in front.
Telematics
For a seamless digital connection between all the devices on board the New Citroën C4 Picasso, the new 7-inch tablet boasts an improved interface and a capacitive screen. Operation of the fully independent 12-inch HD screen has been optimised with the new CITROËN Connect Nav navigation system for extra responsiveness, connectivity and modularity. Connected services have also been further developed.
CITROËN Connect Radio: The new-generation 7-inch tablet features capacitive technology for increasingly seamless and responsive use. The "Créative Technologie" system groups all controls within easy reach of the driver or passenger, including those for driving aids; air conditioning; telephony, with Bluetooth technology (contact access and call-waiting management); multimedia, with the possibility of listening to music stored on smartphones, whose apps motorists can duplicate on the tablet via the Mirror Screen (compatible smartphones operating with Apple CarPlayTM, Android Auto (available end-2016) and MirrorLink®); and a 6-speaker radio with AM, FM and DAB (depending on the country) and steering wheel-mounted controls.
CITROËN Connect Nav: This new 3D, touch-operated and real-time connected navigation system enables users to zoom in with two fingers (as with an iPad) and has been upgraded to make route guidance easier through improved mapping. Europe's main cities and monuments are displayed in 3D, while all reliefs are shown in realistic fashion. On roads with more than one lane, a system of arrows helps drivers visualise the right lane to take. A pop-up window is displayed on screen during route guidance to provide a perspective view of complex intersections with the relevant traffic signs. The system informs the driver of speed limits for main roads (motorways and national roads). Four complete updates of the pre-installed mapping are available for download every year. Also, to simplify the touch interfaces and make the car safer on the road, voice recognition is now available for interaction with the satnav, telephone and media functions. The system allows to read SMS and emails and to send quick messages from its car. Using the USB-connected Mirror Screen function, drivers can enjoy all their multimedia content and easily and directly control their smartphones and compatible apps on the touchscreen.
Launched previously on the New Citroën SpaceTourer, the new connected services corresponding to the CITROËN Connect Nav navigation system allow access to: Traffic Pack, offering real-time traffic information and TomTom alternative route suggestions, the display of local weather forecasts, the display of car parks and petrol service stations with prices, and local point-of-interest searches via the Internet; the Alert Pack, indicating "danger areas" (SpeedCam displays on mapping); and the Update Pack, for updates of mapping and software via USB.
CITROËN Connect Box including the SOS Pack and assistance: With CITROËN Connect Box, drivers can be connected with a specialised assistance platform. In the event of an accident, a text message including vehicle identification, the driver's telephone number and their exact geographical location is sent manually or automatically via GSM link to a platform that hosts and coordinates call reception and processing. Where the driver is unable to respond, the call is automatically sent to the emergency services. With the combination of Citroën Connect Box and Citroën Connect Nav, drivers enjoy connected navigation without having to use their smartphone.
The range of services included in the CITROËN Connect Packs requiring equipment with CITROËN Connect Box with the SOS Pack and assistance included comprises three packs: the Monitoring Pack (free subscription), featuring the Virtual Maintenance Manual (automatic monitoring of mileage and upcoming servicing alerts) and ecodriving advice (personalised tips on the basis of the driving style observed); the Mapping Pack (paid subscription), for geolocating the vehicle (alerts on vehicle use outside a pre-defined area or time frame, display of completed journeys and those under way); and the Tracking Pack (paid subscription), which maximises the chances of finding the vehicle in the event of theft (geolocation of the car to help the police find it). Customers can subscribe at dealerships and/or on MyCitroen.fr.
04 NEW PureTech 130 S&S EAT6 ENGINE
The New Citroën C4 Picasso is available with a range of petrol and Diesel engines that perfectly match the expectations of consumers and provide top-level driving pleasure while proving economical and respectful of the environment.
The C4 Picasso is a benchmark on fuel consumption and CO2 emissions for petrol and Diesel models with the best-in-class PureTech and BlueHDi engines (C4 Picasso PureTech 130 S&S 6-sp manual 115 g/km of CO2; C4 Picasso BlueHDi 120 S&S 6-sp manual 94 g/km; C4 Picasso BlueHDi 120 S&S EAT6 102 g/km; C4 Picasso BlueHDi 150 S&S 6-sp manual 107 g/km).
It is available with a broad range of petrol engines (PureTech 110 S&S 6-sp manual; PureTech 130 S&S 6-sp manual; THP 165 S&S EAT6) and Diesel engines (BlueHDi 100 S&S manual; BlueHDi 120 S&S 6-sp manual or EAT6; BlueHDi 150 S&S 6-sp manual or EAT6).
In 2016, the range is being extended with a new engine, the PureTech 130 S&S EAT6. The New Citroën C4 Picasso combines the excellent PureTech 130 S&S engine with the EAT6 automatic gearbox for total peace of mind at the wheel. The latest-generation EAT6 gearbox provides consummate driving pleasure and can be controlled directly from the steering wheel.
The PureTech 130 S&S engine complies with the new Euro6 pollution standard. With its fuel consumption limited to 5,1l/km and its CO2 emissions reduced to 115 g/km , the new PureTech 130 S&S turbocharged 3-cylinder engine is conclusive proof that downsizing serves to enhance performance and driving sensations.
Equipped with direct high-pressure injection and a new-generation high-yield turbo (operating at 240,000 rpm), it offers a remarkable driving experience right from the lowest engine speeds with maximum torque of 230 Nm coming at 1,750 rpm. It boasts the best-possible compromise between low-speed torque and power on the market, with 95% of torque available from 1,500 rpm through to 3,500 rpm, making it an exceptional performer in all circumstances. Thus equipped, the C4 Picasso and Grand C4 Picasso reach a top speed of 201 km/h.
Designed in France and produced in Spain at the Vigo plant, the Citroën C4 Picasso and Grand C4 Picasso 2016 will be launched in France in June 2016.
The Citroën brand
Citroën is an international automotive brand with a core full-line range. A purveyor of optimism since 1919, the Brand stands apart through its creativity and boldness – values that it places at the service of its customers by devising fresh solutions to the challenges arising in each new era. Citroën today is reinventing itself with models placing a premium on design, comfort and technological intelligence and with a seamless and transparent customer experience, as illustrated by its online opinion site, Citroën Advisor. With 10,000 points of sale and after-sales in over 90 countries, Citroën sold nearly 1.2 million vehicles in 2015. The Brand has also amassed eight Constructors' titles in the WRC and won its second consecutive Constructors' title in the FIA WTCC in 2015.
PRESS CONTACT
Benjamin Demozay – Tel: +33 (0)1 58 79 73 51 – + 33 (0)6 17 69 91 43 – benjamin.demozay@citroen.com
Marion Le Renard – Tel: + 33 (0)1 58 79 73 66 – + 33 (0) 6 30 09 66 62 – marion.lerenard@mpsa.com
Find all your Citroën press contacts at http://int-media.citroen.com/fr/contacts-list