March 9, 2020
AMI, 100% ELECTRIC MOBILITY ACCESSIBLE TO ALL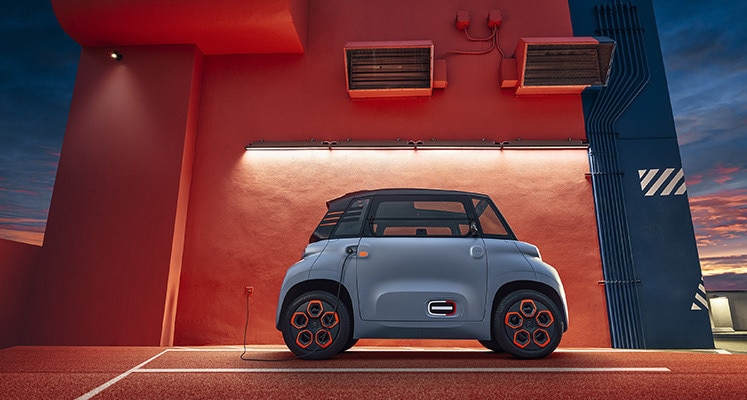 For over 100 years, Citroën has demonstrated the boldness and creativity to allow increased access to mobility. At the dawn of its 101st year, the brand is making its mark by unveiling its 100% electric Ami – an all-new 'object' inspired by the AMI ONE Concept.
AMI is the breakthrough response of an innovative brand that is inspired by its customers and attuned to new modes of consumption, challenges of urban travel and environmental awareness. It is a non-conformist object: two seats, 100% electric, comfortable and protective, compact and agile, customisable. It is a unique character that challenges established codes.
The two-seater concept vehicle is compact at 8.2ft long and has a 100km range with a top speed of 45km/h.  Positioned as an alternative to public transport (bus, tramway, metro), other two-wheeler means of transport (bikes, scooters and kick scooters) and accessible for anyone from the age of 16 in European countries (according to the legislation), it is intended for urban customers with or without a driver's licence.
Style has been key to the image of the Citroën brand for 100 years, because a Citroën car is always instantly recognisable. The brand's history has been marked by singular body styles, from the Traction Avant to New C5 Aircross SUV, including the 2CV, Ami 6 and CX. This new concept object is part of that tradition with its pure shapes and original graphic approach. The first time you see the two-seater Ami One Concept, there is a sense of both surprise and familiarity. It also embodies a modern vision of the Citroën Advanced Comfort® programme. In addition to a silent drive and a meticulous approach to the materials used, the cabin is bathed in natural light thanks to large windows all round, including the windscreen, side windows and rear window.
Discover more about AMI here: